Businesses and commercial real estate firms across the country are beginning to engage with solar in significant ways. This recent Star Tribune Article represents a growing trend among commercial businesses, that incorporating sustainability practices and creating revenue with solar is winning strategy.
"Determining how to reduce our carbon footprint is a priority for us," said George Sherman, principal at Sherman Associates. "It's part of our solar garden strategy."
Real estate firms are some of the first to jump on this opportunity. Companies like Hillcrest Development see solar as a way to attract and retain tenants, while creating compelling returns on otherwise non-productive real estate. At Home Apartments will soon pass the 1 megawatt mark with projects distributed across more than a dozen properties in the Twin Cities. In a recent interview founder Alan Spaulding said:
"Our customers benefit, our staff benefits because they're engaged in something they believe in, our investors get a good return on investment. It is absolutely a win-win and I can't think of any reason why you wouldn't put solar on every rooftop."
Manufacturers and other owner-occupiers are also leading the way with solar. Specialty Manufacturing and Louis Industries have installed thousands of panels recently in a move to reduce electricity costs and earn 8-10%+ return on investment.
Nationally, commercial installations grew 50% year over year from 2015 to 2016 and that growth is expected to continue for the foreseeable future. But how are business leaders choosing to engage and what are the best opportunities?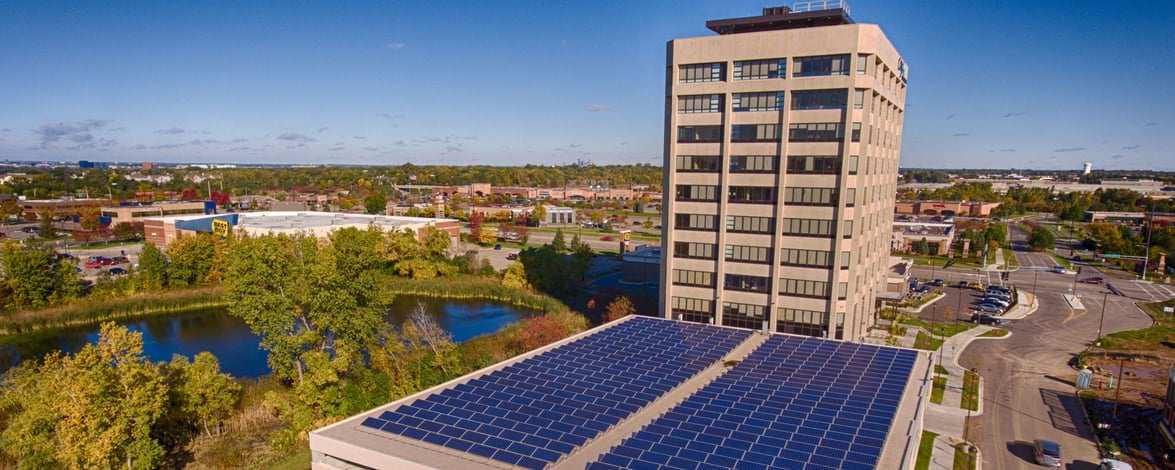 Winning Solar Strategies
There are several ways in which companies can adopt solar power. The primary options depend on the scale and particular focus of your business ...
Rooftop Community Solar Gardens
Community Solar offers tenants, building owners, and public companies the ability to participate in the same solar project, either located on-site or remotely from their building. For their new Mendota Plaza project At Home Apartments is constructing a 150 kilowatt community solar garden which will serve residents at that building and their Common Area Maintenance meter. AHA will increase the rent for those participating in the bill credits, which will result in a net benefit for the residents on an annual basis. Companies like New Energy Equity can assist in organizing these projects with the utility and arrange for financing.
PACE Solar
For those CRE firms with triple-net (NNN) lease structures it's been difficult to justify investments in lowering utility bills that benefit their tenants. New financing options such as Property Assessed Clean Energy (PACE) can provide debt for a project in such a way that tenants pay for those improvements through a special assessment on property taxes. This structure allows for the owner to capture tax incentives and have tenants pay for improvements that benefit them directly.
Owner-Occupied & CAM Solar
The most straight-forward of solar projects, where property owners pay to install solar which directly benefits their electric bill or CAM meters (paid by owner). These types of projects often come with a 10-20% internal rate of return (IRR), unlevered. Many financing options are available here.
Rooftop Leases
Don't have tax liability or want a hands-off approach to solar? Make your roof into a revenue-generating asset by leasing it for solar power. Solar developers like New Energy will pay to install equipment and maintain the system over the life of a lease. Much like billboards or cell towers, solar offers long-term, predictable cashflow, mainly for larger roof spaces (more than 50,000 sqft). Large solar arrays can increase net operating income (NOI) significantly, which should increase a property's value, without any upfront costs.
Solar Carports
Large parking lots are often great opportunities for solar projects. Lease revenues for these projects will be much less or non-existent. The primary benefits are covered parking for your guests and tenants, and free pre-wiring for Electric Vehicle (EV) infrastructure. According to a recent report by Bloomberg New Energy Finance, automakers are set to sell 8 million EV's per year by 2030. People will need access to EV charging options, which could be another revenue generator in the future.
The resounding message is that solar can no longer be ignored. As more real estate firms increase their NOI with solar and more businesses (and their supply chains) demand sustainable solutions, companies must at the very least develop a strategy for how to engage. The first step is to reach out to companies like New Energy Equity to understand where projects make sense within the context of your organization. A no-cost feasibility analysis can show which opportunities are most attractive, which provides a good starting place. Contact us today to develop your solar strategy.