When you think of environmental justice, you might think of the availability of safe drinking water, or air quality, or perhaps the placement of toxic facilities across the country. Environmental justice is about ensuring that every individual, regardless of race, income, and gender, has equal access to environmental benefits and is equally protected from environmental harm. The U.S. Environmental Protection Agency (EPA) defines environmental justice as the fair treatment and meaningful involvement of all people regardless of race, color, national origin, or income, with respect to the development, implementation, and enforcement of environmental laws, regulations, and policies 1.
Though the United States strives to uphold principles of environmental justice, the country has a history of disproportionally burdening poorer communities, minorities and people of color with environmental hazards. Toxic waste processing facilities, nuclear plants, highways, and other potentially harmful projects are far more likely to be built in a community of color or a predominantly low socioeconomic area than an affluent white community. In fact, according to The National Association for the Advancement of Colored People (NAACP), race is the number one indicator for the placement of toxic facilities in the United States. One of New Energy Equity's (NEE) core values is to "Lift as we Climb", meaning we are dedicated to ensuring that our solar projects serve a greater purpose: both by reducing our nation's dependence on fossil fuel energy generation and ensuring that the benefits of solar are accessible to all.
Environmental Justice in the Solar Industry
Many states across the US are shifting to renewable energy. Renewable energy improves the quality of the air we breathe, creates countless local job opportunities, and fosters energy independence.
However, not all communities have access to affordable renewable energy. Renters, low-to-moderate income residents, people who lack adequate credit, and anyone who lives under a shaded roof faces difficulty in accessing the benefits of solar energy 2.
In the past few years, the United States has witnessed the emergence of Community Solar Gardens (CSGs). A CSG is a large ground mounted solar power plant that produces electricity that may be shared among various local individuals or businesses, typically referred to as CSG subscribers. CSGs allows those who do not own property, those who cannot afford the upfront installation costs of solar on their property, or those who do not have a viable roof for solar to benefit from solar power and participate in the clean energy transition. The benefits of solar go beyond the environmental impact of supporting clean energy: subscribers almost always pay less for solar-produced electricity than they would otherwise pay for electricity through their local utility.
Solar energy helps de-carbonize the electric grid, which is essential to fight climate change. CSGs are a win-win-win situation for everyone involved.
CSGs are a promising way to encourage environmental justice in the solar movement that is sweeping across the United States because it ensures equal access to the financial benefits of solar energy. A community solar garden big enough to power a small town can provide solar-electricity to everyone who lives there,– providing low electricity rates to community members, and leaving no one behind.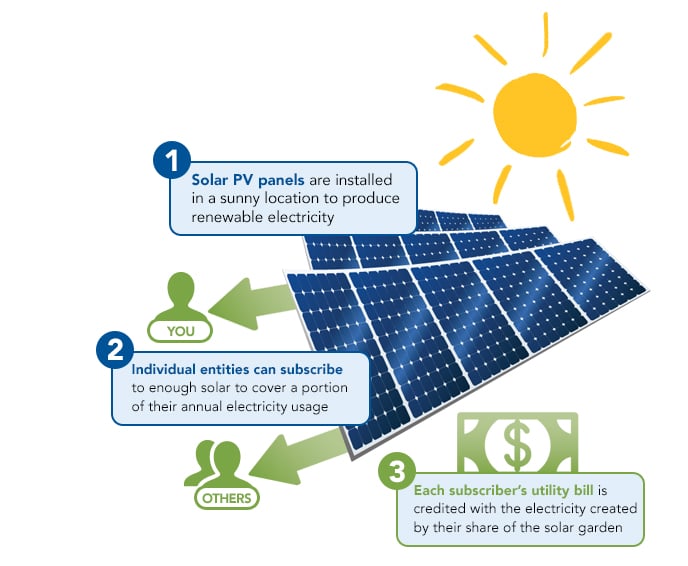 New Energy Equity capitalizes on this dual benefit of providing low cost electricity to subscribers, while driving the de-carbonization of the electricity grid with each community solar garden it develops. New Energy Equity has energized over 150 MW of CSGs, accounting for over 60% of our entire project portfolio! That's enough energy to power 28,500 homes for a year in the communities we serve. We are proud to ensure environmental justice in the clean energy transition by providing solar energy through our community solar gardens.
See all of our completed CSG projects here.
References:
1. https://www.epa.gov/environmentaljustice
2. http://greenjusticecoalition.org/wp-content/uploads/2018/06/Solar-Access-1-Pager.pdf
3. https://www.conserve-energy-future.com/environmental-justice-principles-importance-examples.php
4. https://www.austinutilities.com/pages/solarchoice/
5. https://www.energysage.com/solar/community-solar/community-solar-power-explained/